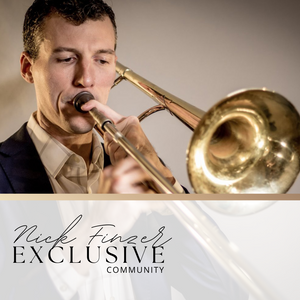 I still remember the first time I arrived in New York City… I was 14 years old and got off the bus at Lincoln Center, for the Essentially Ellington Competition in 2003! As a new-comer to the city, I was inundated by the pure rush of energy and excitement of being in that environment! Just a few hours later, I was playing for Wynton Marsalis in Alice Tully Hall… it was a truly magical day… 
Fast forward to the summer of 2015 when I found myself subbing in the Lincoln Center Jazz Orchestra for the wonderful trombonist Elliot Mason! Just one of many full-circle moments I've been lucky enough to experience as a young musician… 
Now as I enter the next stage of my career, committed to preserving, presenting, and expanding the tradition of this music and the heroes of my instrument (like JJ Johnson, Curtis Fuller, and Slide Hampton) I'm thrilled to invite you to help to build that legacy, together! Subscribing to Nick Finzer Exclusive will fund all of the activities that make this genre so great: masterclasses with young musicians, live streams, tours, albums, and videos. It will be an essential element in allowing us to continue to build the legacy of, and protect our music!
As a thank you for your vision and support, you'll gain access to a unique & private feed where I'll post behind-the-scenes photos, videos, unreleased concerts (audio and/or video), messages from the road, masterclasses, "bootleg" recordings from various gigs. This provides a real "insider's" perspective on the life and career of a musician in today's industry, the situations and relationships that make this life so special, and much more…
There are four tiers of support, and each membership will come with limited edition gifts! Members will automatically receive each new release produced by Nick in digital and physical (if CD's or Vinyl are made) during the subscription period. 

All Memberships Include: 
Signed copies of all future releases during the membership period! (No need to purchase when released, they'll arrive at your door ahead of the release date!)

 

Exclusive access to the private creator blog feed featuring bootlegs, videos, updates and more.
Digital Access to my full back-catalog!
Platinum: Associate Producer
$6000 for 12 Months
Everything from the Bronze and Silver levels
*AND*
Our Platinum members are directly funding the creation of new works that will result in new albums and video projects. You will be listed in all digital and physical album credits as the Associate Producer of the project.

 

Evening out with Nick! Once per year, Nick will come to your city (or mutually agreeable location) for an evening to catch up, talk about future projects, and whatever else you might enjoy!

 
Gold Level: Presenter
$1000 for 12 Months
*AND*
Newly commissioned composition (or arrangement of a favorite tune) for you, each year! You will receive a hard copy lead sheet of the composition, as well as a rehearsal recording.

 

Private Concert in NYC each year to premiere the new works, preview new albums, and enjoy an evening together(date determined based on availability, to be live-streamed/recorded for those unable to attend)
Silver Level: Investor
$500 for 12 Months
Everything from the Bronze Level
*AND*
Full Back-Catalog shipped to your door (excludes out of print releases including "Exposition")
Signed & Framed Poster from Nick Finzer's "Hear & Now" Tour (the album that really helped to kick my career to the next level!)

 
Bronze Level: Aficionado
$139 for 12 Months
Receive one copy of each "Out of Focus" and "Cast of Characters" CDs.
Signed copies of all future releases during the membership period! (No need to purchase when releases, they'll arrive at your door ahead of release date!)

 

Exclusive access to the private creator blog feed featuring bootlegs, videos, updates and more.
Digital Access to my full back-catalog
Reserve Level: Special for the Trombone Playing Enthusiast 
$619
Includes the Bronze: Aficionado level
*AND*
Access to Nick's Educational Content Library (250+ educational videos) and all NEW courses and books made available during the membership period! (See Nick's website for listing of materials currently available on the "Learn with Nick" tab) Complimentary trombone lesson or coaching session once per year (in person or Virtual, as availability allows), hard copies and PDFs of all past and future books and educational materials during subscription period.  (This level has an $1809 value!)