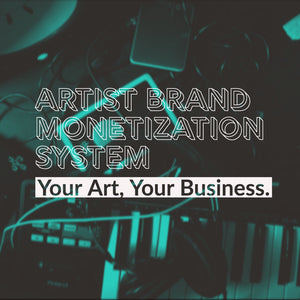 What's included in Nick's Artist Brand Monetization? 
PURCHASE INCLUDES 3 MONTHS OF ONGOING CONSULTING!
email nick@nickfinzermusic.com with questions!
I can't wait to work with you!
Payment plans available.
1 on 1 Consulting Sessions to cover:
Social Media
Social Media Audit

Content Ideas

Platform Strategy

Content Strategy

Content Calendar

Pillar Content Model

Paid vs Organic Strategy

Platform Specificity and Strategy

Brand Awareness, and Retargeting Campaigns Surrounding your Album Launch (and lead up). These campaigns start in the weeks leading up to the first single launch. Does not include ad spend budget.

Additional Options to grow your Social Media team with OiM:

IG Growth Service

Video Editors (Content Repurposing)

Additional Social Media Ad Campaigns (Paid Media) 

Full service Social Media Management available
Develop and Implement you Marketing Plan
Organize all team members on to same page

Keep Distribution and Publicity on the same page

Create a Marketing Plan document that outlines our complete strategy and timeline for activities. 
Audience Development
Who is your Audience?

How are they different?

Where are they?

What can you create for them?

Who is your Ideal Customer?

Developing Audience Funnels and Strategies

Email Marketing Strategy and Tools to grow your email list.
Monetization
Based on your audiences, how can we best monetize each audience? 

Provide actionable steps, and ideas for each audience segment

Ideas and Strategy around Monetization as an artist, educator, freelancer, composer, arranger, influencer, etc.

What other skills can we focus on that will help bring your content and monetization options to the next level

Eliminate things that are just "spinning the hamster wheel"

Ways to sell MORE product(s)
Brand Strategy
Materials Audit

Website

Photos

Bios

Social Presence

Access to vendors to work on/improve on these items
Touring Strategy
Develop a Touring Strategy

Access to our Templates for Booking

Access to hourly OiM Virtual Assistants to assist you with booking tasks ($19/hr)
Looking for Brand Partnerships
Identifying potential brand partners

What niche's? 

What companies? 

What outside of music?

Access to Templates for Reaching out to Brand Partners
Ensure your music is HEARD by the press and consumers, by helping to craft a compelling narrative around your music (even if you're not sure what that could be!) 
Ensure your music is registered in all of the right places
Online (Live-streaming) Performance and educational Strategies to Grow Audience and Monetize
Spotify Playlist Outreach Strategies
Direct outreach

Playlist Push Setup

Consulting around Spotify Ads
Media Appearances:
Pitches to appropriate podcasts and radio shows

Develop Talking Points for Interviews

Identify and contact potential YouTube and/or Video Collaborators 
Connect you with the best of the best in terms of additional outside team members who will help you bring your project to market in the best possible light.
Answer questions, provide support, and provide guidance each step of the way. Message us, any time.